A new program helps prepare people with disabilities for future natural disasters, using a simple non-verbal communication phone app and a backpack.
Key points:
The program prepares people for natural disasters through simple measures such as emergency backpacks and a communication app
People with disabilities who have experienced bushfires have welcomed the program
New South Wales Police Superintendent Greg Moore says he supports the initiative
The EMBER (Emergency Management Backpack Evacuation Resource) program was developed in the wake of the 2019-2020 bushfires, when the disabled employment group based on the New South Wales south coast, Flagstaff, received an emergency evacuation warning in the event of a bushfire.
Flagstaff general manager Roy Rogers said the evacuation caught them off guard.
"It really had a huge impact on us," Mr. Rogers said.
Since then, Flagstaff has been working on a backpack containing emergency information, a checklist of things to pack for an evacuation, a torch, a battery-operated radio and a first aid kit.
She has also developed a non-verbal communication app that can be downloaded for free anywhere in the country, to facilitate communication with people who are hard of hearing or non-verbal.
People with disabilities working in Flagstaff have learned to use all of these resources.
Mr Rogers said it was Australia's first disability-led emergency planning resource.
"It contains all the essentials I need"
Employee Kyal Sinclair was working on New Years Eve 2019 when Flagstaff was evacuated.
He said it was terrifying, and although he was able to communicate with his family and first responders, many of his colleagues were not.
Sinclair said he was relieved that there are now resources in place to help people get through an emergency.
"It was a terrifying experience," Mr. Sinclair said.
Geoff Brody, who also works in Flagstaff, fought bushfires at home with his father during Black Summer.
He said he felt much better prepared now that he had his emergency backpack.
"It has all the emergency essentials I need," Brody said.
Not just for people with disabilities
Although the EMBER program has been targeted at people with disabilities, the general community is also encouraged to use the resources.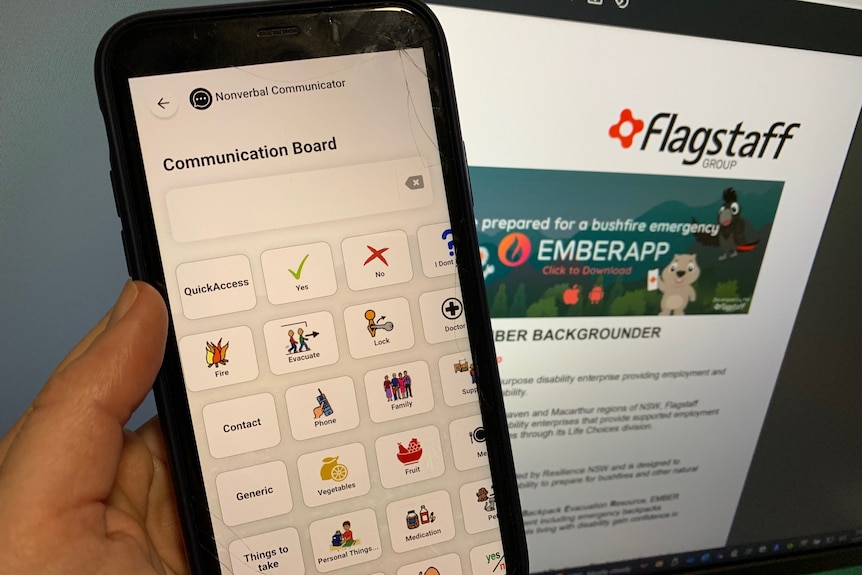 Superintendent Greg Moore, commander of the New South Wales South Coast Police District, said communicating with non-verbal community members can be difficult at the best of times, let alone in times of 'emergency.
"It certainly adds another layer of complexity to our disaster response," Superintendent Moore said.
"We have excellent emergency service workers in the area, but anything we can do to give them an edge in communicating with people who don't speak or who may have other disabilities can be a real asset.
"We are very supportive of the initiative."
The program was funded by Resilience NSW and cost $200,000 to create.
Its developers hope that it will eventually be rolled out across the country.
The Nonverbal Communication app is free to download from app stores and all emergency resources are available online through the Flagstaff website.